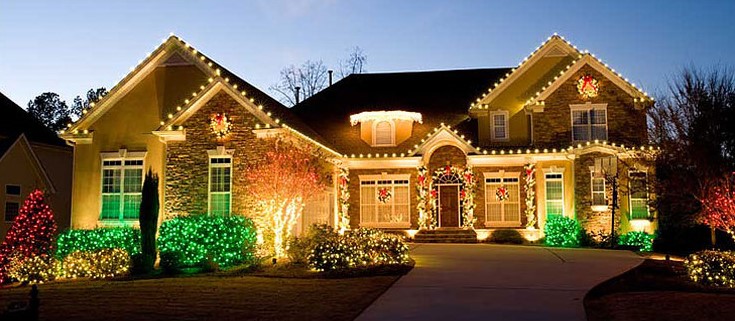 Elite Landscape Contractors, Inc. has been in the Christmas lighting business since 1998 and has decorated several hundred residential homes and commercial properties such as the LJVM Coliseum in Winston-Salem, NC and the Lewisville Town Square in Lewisville, NC. Our designs are custom fit and hassle free with free service calls throughout the season.
GIVE YOUR HOME A HOLIDAY MAKEOVER
Our lighting service starts with a site visit and the measuring of your home to see how many lights you'll need to brighten it up. We also look at trees, shrubs and any other objects that we can decorate for you. Our proposal lists all the items we can light up or install daytime decor on for you. Our two popular items include branch wrap trees and C-9 bulb roof lines.
W TAKEDOWN & STORE THE DECORATIONS
Our proposal not only includes the installation of the decorations but includes the takedown as well. We properly mark and map each decoration with the correct power source so installation the following year is a breeze. We also box and store the decorations for you throughout the year freeing up your garage and attic.

Key

Benefits

Decorating your home for the holiday season can be stress free and fun with our services. We offer complimentary designs, installation, take down and storage of all decorations. Let us handle all your decorating needs so that you can enjoy the season with your family and friends.

 Installation of all decorations, power cords and timers.
  Take down of all decorations with mapping of power sources.
 Storage of all decorations so that your garage is clutter free.
  Custom fit of all decorations with no nails or staples.
  Our service is a lease so we there is no fee for service calls.